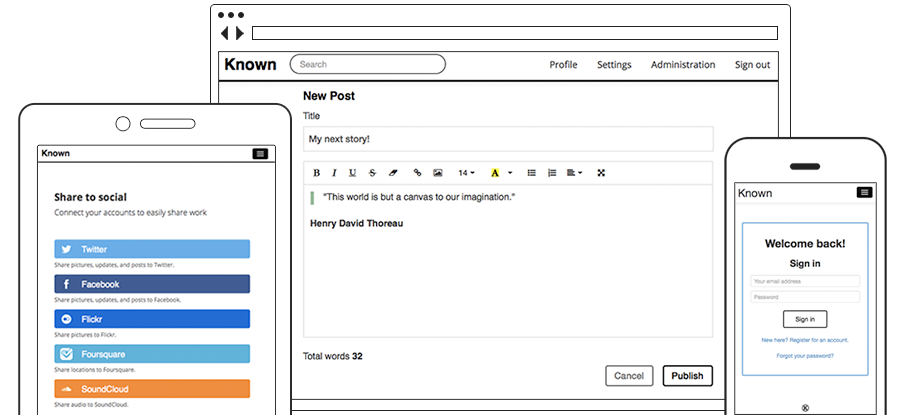 Introduction
A simple, social publishing platform for all your content
Hi there! Known is a simple web platform where you can create a website to publish thoughts, discuss ideas, and share projects online.
You can use Known to create a space to publish essays and articles, notes and updates, pictures and images, locations from your day-to-day life, audio notes and music, bookmarks of your favorite links, and much more. If you connect your favorite social networks to Known, you can choose to share what you publish to friends and colleagues on those networks.
This guide will introduce you to the basics of using Known, including how to set up your site and how to publish and share different types of content.
Are you ready to share amazing things with your friends and family? Let's get started!
Create Your Site with Known
There are two ways to create a site with Known: you can download the software and install it on your own webspace or you can sign up for a hosted account with us. If your Known site is hosted on your own space, you may want to refer to the developer documentation or to the other how-to guides about installing Known on a hosting provider.
Don't want to host the site yourself? Sign up for a free account today.
Free Sites: Anyone can create a free Known site at withknown.com. Free accounts include all of the core features covered in this guide. A free account is a great way to try out the service and start creating a site for yourself.
Pro Sites: Premium Known sites are available for individuals, students, teachers, and businesses. The paid version of Known offers some great additional features for your site for a monthly or yearly subscription. If you're interested in the extra offerings, sign up for Known Pro.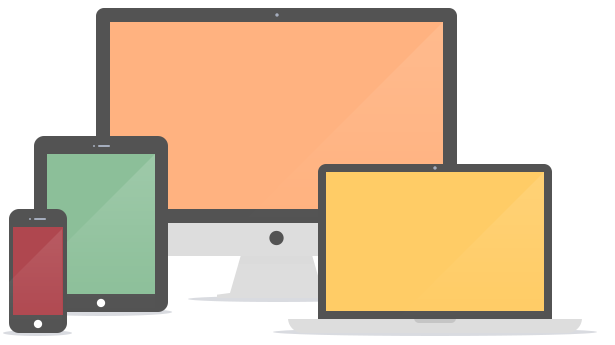 Known Works on All Your Devices
The Known web platform is built to be responsive, which means you can use it from any internet enabled device. Forget wondering whether there's an app for that. Your site is accessible from a phone, a computer, or a tablet.
---
This how-to guide was last updated on August 7, 2015.